Vietnam - Japan Cultural and Commercial Festival
An event for cultural and commercial exchange between Vietnam and Japan kicked off on November 19 in the Mekong city of Can Tho's Ninh Kieu district.
Activities of the Vietnam - Japan Cultural and Commercial Festival include musical shows, performances of martial arts, and exhibitions of Japanese and Vietnamese goods. The festival also offers an occasion for exchange between Japanese and Vietnamese enterprises.
The event includes an exhibition of 70 booths showcasing goods and services of various sectors including agricultural and industrial production, aqua - culture, tourism, trade and service, food processing, textiles and garments, and cultural and educational products and services.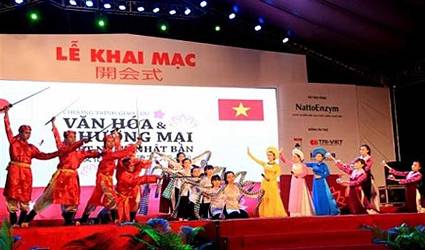 High on the agenda is the 3rd annual conference on "Investment in the Mekong Delta 2015" which starts on November 20 at Muong Thanh - Can Tho Hotel for 200 delegates from the US, Japan, the Republic of Korea, Singapore, Taiwan of China, the EU and Vietnam.
Leaders of Can Tho and other Mekong delta provinces praised Vietnam - Japan cooperation potential in Vietnam's Mekong delta in agriculture, training, and labor exports.
Japanese Consul General in HCM city Nakajima Satoshi said: "We hope that this will be a good opportunity for Japanese companies to come learn about Can Tho and Vietnam's Mekong delta. As Can Tho is the center of the Mekong delta and has great potential I think many Japanese companies will consider making their investments here."
The three-day festival has been organised by the Vietnam Chamber of Commerce and Industry (VCCI) Can Tho branch and the Japanese Consulate in HCM City.
According to Nguyen Phuong Lam, Deputy Director of VCCI Can Tho, the festival is the first of its kind held in the Mekong Delta. It is expected to attract 50,000 visitors, and will be held annually.
Contact us at This email address is being protected from spambots. You need JavaScript enabled to view it. to get Vietnam visa on arrival and have cheapest price.
Related news items: