Five markets in Sai Gon especially loved by foreign tourists
The reputation of five Sai Gon markets has not only spread in the country but also abroad.
Ben Thanh Market
The market is a well-known icon for long-time dwellers in HCM City as well as visitors to the country's most bustling hub. Located downtown amid an abundance of tourist facilities, restaurants and shopping streets, Ben Thanh Market offers visitors all they need. At the market, one can find everything from everyday food to souvenirs symbolic of all regions of the country.
If you have no chance for a long stay in the city, a walk along Ben Thanh night market can give you a better understanding of the lifestyle and food culture of local people. The miniature Sai Gon at Ben Thanh Market at night can fully meet visitors' demand for traditional food and shopping.
Binh Tay Market - a giant grocery shop
Binh Tay Market is the central market of Cho Lon, the Chinese district in Sai Gon. A mix of French and Chinese architecture, this market, built in 1928, is the largest in Ho Chi Minh City, spanning four blocks.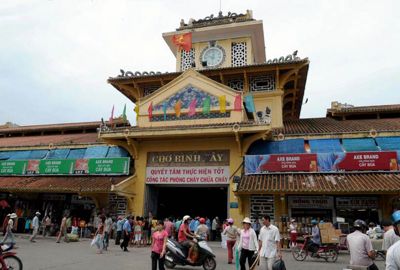 The new market was built by a Chinese businessman after the old location burned to the ground. A memorial to the founder is still present today. Located in HCMC's Chinatown area, Binh Tay Market is less visited and far less tourist-infested than iconic Ben Thanh Market in central Sai Gon.
Divided into sections, the market has something for everyone. Pick up kitchenware, cloth, candied goods, plastic gimcracks, whatnots, plus a whole lot more. Don't expect the hard sales pitch at Binh Tay. For every vendor doing math on a portable calculator, chances are good there's another snoozing away in a hastily erected hammock.
Dan Sinh - market of military memorabilia
Also known as the War Surplus Market, this is the place for authentic combat boots or rusty dog tags, among the hardware stalls. There are also handy gas masks, field stretchers, rain gear, mosquito nets, canteens, duffel bags, ponchos, boots and flak jackets.
Ho Thi Ky market
Ho Thi Ky is considered the biggest flower market in HCMC. It is a hotspot from 11 p.m. until 6 a.m. the next morning with dozens of trucks rushing to the market with thousands of flower-boxes from Ha Noi and Da Lat cities. Some flowers are also imported from Japan, Thailand and China.
The market, located on Ho Thi Ky Street in District 10, sells varieties such as the rose, daisy, orchid, lily, salem, mimosa, sunflower, lotus as well as wild flowers. Apart from fresh flowers, the market also features baskets and vases made from bamboo or ceramics as well as flower arranging services.
The market has about 100 trading households with about 5-7 workers each. On normal days, the market receives about 1,000 flower boxes with each box holding 150 flower bouquets, but in the holiday season like now, the market receives 2,000 to 3,000 flower boxes.
Sai Gon Square
The famed "Russian Market," located in District 1 between Ben Thanh market and the Sai Gon Opera House, is a mecca of fashion boutiques and designer knock-offs. The sprawling complex has almost everything the modern Vietnamese or expat needs to live in relative luxury in Vietnam from jewelry and watches to bags and jeans.
Like most places in Vietnam, Sai Gon Square is roughly divided into sections each offering a specific type of good. Outside the main entrance are shoe vendors and other miscellaneous shops. The recently-added South wing is full of bag shops and a few shirt vendors. The main complex, meanwhile, is divided into two floors with a mixture of vendors, though the top floor focuses more on clothing.
Whether you're in a shopping mood or not, however, Sai Gon Square is worth a visit just for the experience. Crowded and bustling, Sai Gon Square has the claustrophobic yet energetic feel of Ben Thanh market and a hundred other Vietnamese markets. But the sleek, bright complex with giant Japanese air conditioning machines blasting from every corner gives it the feel of a budding modern shopping mall. An amalgam of old and new, Sai Gon Square is in many ways a bridge between traditional and modern Vietnam.
Contact us at This email address is being protected from spambots. You need JavaScript enabled to view it. to get cheap visa to travel Vietnam and discovery Vietnam Travel Markets.